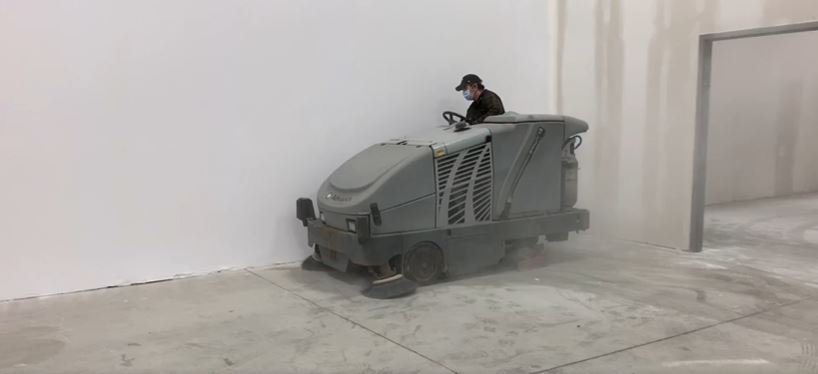 Power Sweeping is mechanical sweeping using a machine. Low Rider Maintenance uses the Tennant S20S ride-on sweeper which provides heavy duty sweeping, quietly. to keeping parking garages and parking lots tidy and clean. This machine is propane powered making it ideal for indoors.
Power Sweeping is an Important Part of Parking Garage Maintenance
Power Sweeping and removal of debris in parking garages is a crucial, yet often overlooked aspect of parking garage structure maintenance because debris can build up and block drains. If the drains are blocked and water cannot drain out, it can cause corrosion. As the image below shows, over time, salt causes corrosion to drain grates. Additionally, if enough dirt and debris builds up on a drain and causes a blockage, it can lead to significant pipe damage. In unheated parking garages, frozen pipes can break. The repair of broken pipes within the concrete floor in your parking garage is expensive. Low Rider cleans drains and we manufacture custom sizes drain grates.
Keeping your parking garage clean not only keeps that area clean, it keeps your building interior clean as well. It prevents tenants from tracking dirt from the garage to the interior where you might have a carpeted area. Dry sweeping the parking garage will reduce the frequency for carpet cleaning.
Many of our customers get their parking garages cleaning twice a year and we can add you to our schedule with advance notice. Many clients will book carpet and windows cleaning after their garages are cleaned.
Drain Cleaning Should be Done as Preventative Maintenance at the Same Time
Low Rider Maintenance also recommends cleaning your drains with Power Sweeping. Drains can easily become blocked with sand another other debris, leading to some bigger problems if the drain is blocked and water cannot drain. Pooling water can lead to eventual damage to the concrete and, if your garage isn't heated, you can end up with frozen pipes.
Keeping the facility clean not only affects the overall appearance but it also improves the reputation of the facility and increase's the user's perception of safety. How often have you felt unsafe parking in an underground parking lot where there is garbage, graffiti, and even poor lighting? And parking garages that are littered with waste encourage users to contribute to the mess, creating a self-perpetuating cycle of mess. Happier parking garage users leads to a better reputation which can offset the cost of the facility cleaning.
Why Should you Power Sweep your Parking Garage?
Power sweeping keeps your garage area clean. Dirt tracked in from the parking garage makes the lobby area dirty, which means more frequent cleaning is required. A clean lobby and a clean parking garage is good for life-safety and helps reduce liability issues.
A parking garage that is power swept provides a pleasant resident experience.
Sweeping the parking garage prevents your drains from getting clogged with dirt. Clogged drains can lead to frozen pipes which can lead to large plumbing bills.
Air quality in the parking garage is improved when you power sweep it, to remove not only larger debris but fine particles.
How Often Should Power Sweeping be Done?
Power Sweeping should be done at a minimum once a year, however twice a year is better. Some buildings do sweeping four times a year. The more often you can power sweep your garage or lot, obviously the cleaner your garage or lot will be and your resident satisfaction will increase.
Power Sweeping is for Outdoor Parking Lots too.
Outdoor lots get dirty faster as they are exposed to the elements and open to trash blowing into the lot or being left there. Power Sweeping your lot is an efficient way to keep it looking professional and welcoming.
Regular sweeping is ideal for parking lots because typically there can be a lot of garbage and leaf build up. In particular, cigarette butts, dust, and sand tend to blow to the curb areas. Dust in your lot ends up on the cars in your lot, which is not appreciated by customers. We use a rider on sweeper that is propane fueled and quiet which means the sweeping is not disruptive.
Low Rider Maintenance provides professional and courteous parking garage maintenance services in the Greater Toronto, Hamilton, and Niagara areas.