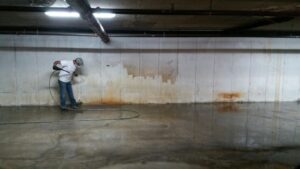 Pressure washing helps to improve the environment in your facility! 
Power washing / Pressure washing makes your environment better for visitors, residents and employees by eliminating potentially harmful substances from the surface. 
A clean and safe environment not only makes your property more appealing but it will also help to get the most life out of your surface. 
Keeping harmful substances like salt and oil off your wood, asphalt, concrete or mastic surface is very important! Without pressure washing / power washing the area, these harmful substances will over time add to a quicker deterioration of your surface. 
Salt can cause nightmares for both you and your residents!
Road salt can be very harmful to the surface of your parking garage! Pressure washing / Power washing can remove harmful salt and stop it from corroding your parking surface. Check out this link to find out more on the damages of road salt!
Our sales team will help to get your Pressure washing Service on track!
Call us today for a quote or for more information! 
Many of our customers get their surfaces cleaned two to three times a year to help maintain cleanliness. 
Hot and Cold Washing Services
Did you know that here at Low Rider we can offer both Hot/Steam and Cold pressure washing services! Drop us a line for a free quote! 
Check out this link for more information on what a Hot Pressure Washer can do! 
Low Rider Maintenance provides professional and courteous pressure washing maintenance services in the Greater Toronto, Hamilton, and Niagara areas.