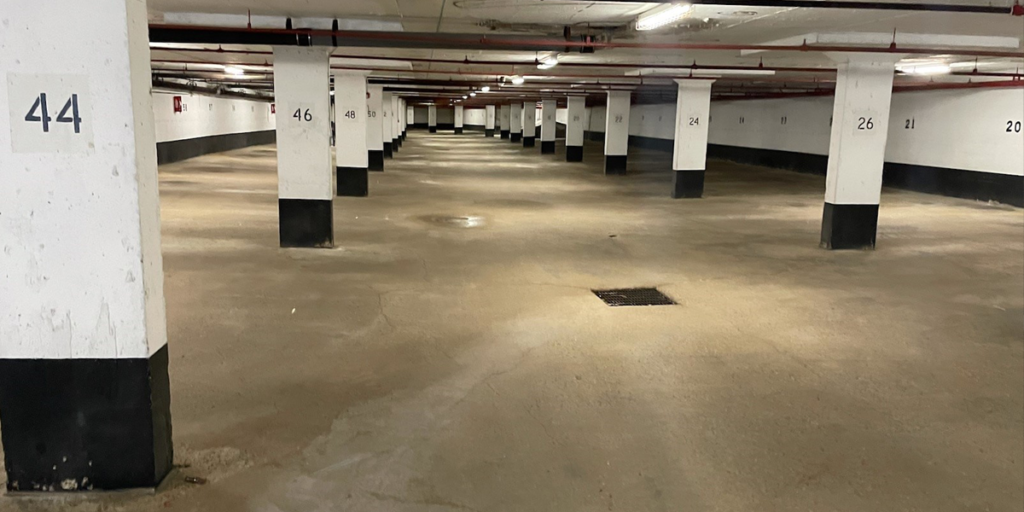 Power Sweep your Parking Garage 1-2 times per Year
Power Sweeping and washing of the floors and walls on a regular basis are also key parts of parking garage maintenance. Power Sweeping is mechanical sweeping using a machine. Low Rider Maintenance uses the Tennant S20S ride-on sweeper which provides heavy duty sweeping, quietly.
Power Sweeping and removal of debris in parking garages is a crucial, yet often overlooked aspect of parking garage structure maintenance because debris can build up and block drains. If the drains are blocked and water cannot drain out, it can cause corrosion. As the image below shows, over time, salt causes corrosion to drain grates. Additionally, if enough dirt and debris builds up on a drain and causes a blockage, it can lead to significant pipe damage. In unheated parking garages, frozen pipes can break. The repair of broken pipes within the concrete floor in your parking garage is expensive.
Power Sweeping should be done at a minimum once a year, however twice a year is better. Some facilities power sweep more often.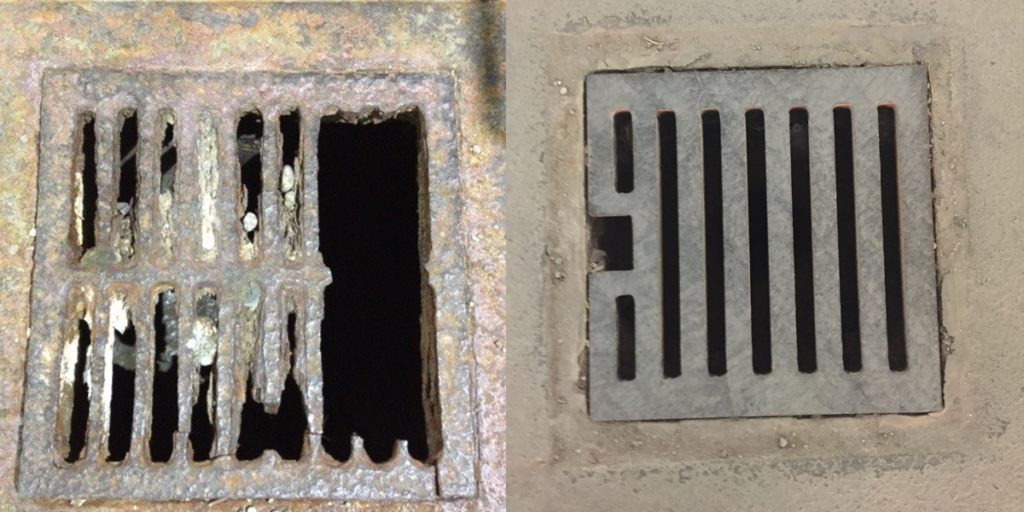 What are the benefits to keeping your parking structure clean?
Improve the reputation of your facility
Increased perception of safety of users
Decreased requirement for interior carpet cleaning
Prolong the life of your facility
Keeping the facility clean not only affects the overall appearance but it also improves the reputation of the facility and increase's the user's perception of safety. How often have you felt unsafe parking in an underground parking lot where there is garbage, graffiti, and even poor lighting? And parking garages that are littered with waste encourage users to contribute to the mess, creating a self-perpetuating cycle of mess. Happier parking garage users leads to a better reputation which can offset the cost of the facility cleaning.
Line Restriping or Line Repainting
After power sweeping the garage, it is recommended to examine the parking stall lines and consider repainting. Parking stall lines or stripes should be clearly visible. If they are faced and difficult to see, it is time to repaint. Low Rider Maintenance can repaint your parking garage lines.
Low Rider Maintenance provides professional and courteous parking garage maintenance services in the Greater Toronto, Hamilton, and Niagara areas.
Let us transform your parking environment
A clean and odor free parking environment adds value to your property, keeps customers satisfied with the overall experience and makes them feel safer.